Merlion Park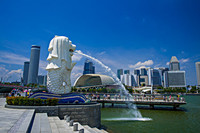 Singapore's Merlion is just what it sounds like the figure of a mythical creature that has the head of a lion and the body and tail of a fish. The Merlion represents the city's humble start as a fishing village combined with its traditional Malay name Singapura, "lion city."
The structure, which was relocated to Merlion Park in 2002, where it can overlook Marina Bay, weighs 70 tonnes and stands at 8.6 meters tall, spouting water from its mouth in a fountain.
The "Merlion Cub" sits nearby, only two meters tall but a hefty three tonnes, and there are five additional official Merlion statues throughout the city. Merlion Park is an ideal spot for photo-ops, whether you are taking a selfie in front of the iconic creature or capturing the magnificent views from the park as it looks out over the bay.
Marina Bay Sands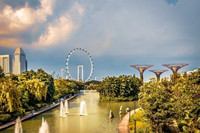 The opulent Marina Bay Sands resort complex includes a high-end luxury hotel, a mall with a canal running through it, the ArtScience Museum, and the Marina Bay Sands Skypark Observation Deck a vantage point for taking in the entire city. The Skypark's viewing deck and infinity pool are found in the ship (yes, ship) that tops the hotel. Only hotel guests are allowed to use the infinity pool, but anyone can visit the observation deck.
From the Skypark, you can see the innovative double helix bridge, the port, the Gardens by the Bay (101 hectares of land converted into waterfront gardens), and the impressive skyline.
While up there on top of the city, guests can grab a snack or a coffee at the rooftop restaurant or pick up some keepsakes from the souvenir stand. You can purchase a photo of yourself green-screened in front of the massive hotel as it's all lit up at night, but the cost is steep at 50 Singapore dollars, better to ask a fellow tourist to snap a photo of you if possible. The elegant opulence of the Marina Bay Sands exemplifies Singapore's style and status as a major international city in Southeast Asia.
Official site: http://www.marinabaysands.com/
Gardens by the Bay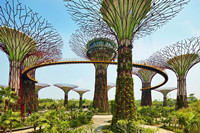 Once you've glimpsed this beautifully designed green space (from the top of the Marina Bay Sands, perhaps) you won't be able to stay away. Wander through the Bay East Garden, perfect for enjoying the vibrant plant life and escaping the city bustle for a moment.
You won't want to miss Supertree Grove, where you'll find a cluster of the iconic, futuristic structures designed to perform environmentally sustainable functions. Then, head to the Cloud Forest Dome to see the world's tallest indoor waterfall and learn a bit about biodiversity. Check the website for ticket sale prices and tour times.
Official site: http://www.gardensbythebay.com.sg/en.html
Singapore Flyer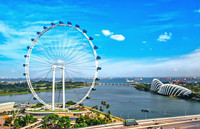 If the observation deck at the Marina Bay Sands doesn't quite do it for you, try taking in high tea while looking out over the city from the Singapore Flyer, the world's largest giant observation wheel. Choose from several different packages that allow you to be served and pampered while enjoying a view that encompasses not only the Singapore skyline but as far away as the Spice Islands of Indonesia and Malaysia's Straits of Johor.
There are several different ticket packages to choose from, and each includes access to the multimedia Journey of Dreams exhibit, which delves into Singapore's history and the creation of the Singapore Flyer.
Flights last 30 minutes and run from early morning until late at night, so you can choose which view of the city you want to enjoy: the beginning of another bustling day or when Singapore is aglow after dark.
Official site: www.singaporeflyer.com
Chinatown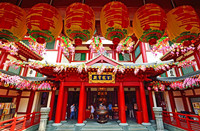 If you've ever visited China, Singapore's Chinatown neighborhood will bring you right back here. From the small mom-and-pop stores and authentic Chinese food to the bright red lanterns, there's excitement and hustle in this district. You can visit the Chinese Heritage Centre and see the impressive and beautiful Sri Mariamman Hindu temple.
Another temple worth seeing is the Buddha Tooth Relic temple. If you're up early enough (think 4am), you can hear the morning drum ceremony. Or you can just check out the closing ceremony in the evening after viewing the relic.
Heritage markers have been installed throughout the neighborhood in English, Japanese, and simplified Chinese, so visitors can better understand the significance of the area. But this neighborhood is not just a testament to the influence of the Chinese throughout Singapore's past. This is a progressive neighborhood (with free Wi-Fi for all), and it's home to the trendy Ann Siang Hill area, where the quaint bistros and upscale boutiques could be at home in any Western city.
Official site: www.chinatown.sg